On July 5, 1943, around 12:30 A.M., Boise City, Oklahoma, was one of the very few cities in the United States to be bombed during WWII.
A B-17 bomber on it's way to a practice bombing range near Conlen, Texas (30 miles south of Boise City) from Dalhart Army Air Base (50 miles south of Boise City at Dalhart, Texas) mistook the street lights around the
Cimarron county courthouse
in Boise City as their target.
The first bomb dropped through the roof of a garage owned by F.F. Bourk northwest of the courthouse. The the bomb tore through the roof and blasted a crater about 20 by 40 inches.
A total of six practice bombs were dropped.
No one was hurt.
On the 50th anniversary of the bombing, a replica bomb crater was created in front of the Boise City Chamber of Commerce office.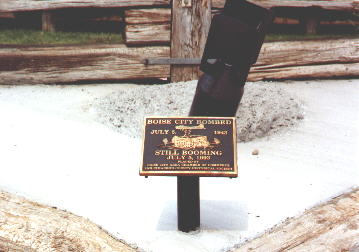 More Information: