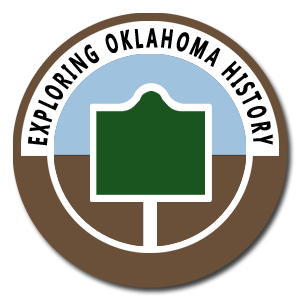 Historic Oklahoma Place of the Day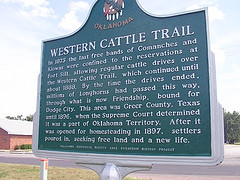 Western Cattle Trail In 1875 the last free bands of Comanches and Kiowas were confined to the reservations at Fort Sill, allowing regular cattle drives over the Western Cattle Trail, which continued until about 1888. By the time the drives ended, millions of Longhorns had passed this way, through what is now Friendship, bound for Dodge City. This area was Greer County, Texas until 1896. when the Supreme Court determined it was a part of Oklahoma Territory. After it was opened for homesteading in 1897, settlers poured in, seeking free land a new life. Oklahoma Historical Society and Friendship History Project

Located in Jackson County, Oklahoma
Today in Oklahoma History
Hmmm, nothing listed for today. Well we'll just have to look ahead.
Geronimo surrenders
On this day in 1886, Apache chief Geronimo surrenders to U.S. government troops. For 30 years, the mighty Native American warrior had battled to protect his tribe's homeland; however, by 1886 the Apaches were exhausted and hopelessly outnumbered. General Nelson Miles accepted Geronimo's surrender, making him the last Indian warrior to formally give in to U.S. forces and signaling the end of the Indian Wars in the Southwest. ... Geronimo and a band of Apaches were sent to Florida and then Alabama, eventually ending up at the Comanche and Kiowa reservation near Fort Sill, Oklahoma Territory. ... He died at Fort Sill on February 17, 1909.
More...

Saturday, September 04, 1886
Adamson Mine Disaster
The roof fell in at Mine Number 1 killing 14 miners.

Friday, September 04, 1914
Community
Exploring Oklahoma History is just for the fun of seeing what there is to see in the great state of Oklahoma, and to possibly learn a little something along the way.
Labor omnia vincit