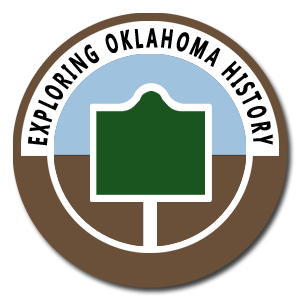 Historic Oklahoma Place of the Day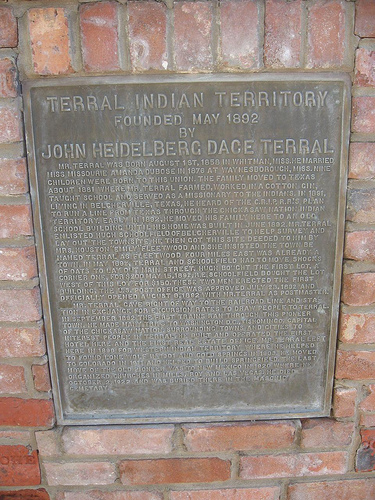 Terral Indian Territory Founded May 1892 By John Heidelberg Dace Terral Mr. Terral was born August 1st, 1858 in Whitman, Miss. he married Miss Missourie Amanda Dubose in 1876 at Waynesborough, Miss. nine children were born to this union. The family moved to Texas about1881 where Mr. Terral farmed, worked in a cotton gin, taught school and served as missionary to the Indians. In 1891, living a Belcherville, Texas, he heard of the C.R.I.P.R.R.'s plan to run a line from Texas though the Chickasaw Nation Indian Territory. Early in 1892, he moved his family here to and old school building until his home was built in June 1892. Mr. Terral enlisted Hugh Schoolfield of Belcherville to heip survey and lay out the Townsite. He then got this site deeded to him by Mrs. Houston "Emily " Fleetwood and she insisted the town be name Terral as Fleetwood four miles east was already a town. In May 1892, Terral and Schoolfield had to move shocks of oats to lay out Main Street. Hugh bought the first lot, a corner one , for $200 May 15, 1892. R.E. Schoolfield bought the lot west of this lot for $150. These two men erected the first building,the U.S. Post Office was approved July 28, 1892 and officially opened August 8, 1892 with Mr. Terral as Postmaster. Mr. Terral gave right of way to the Railroad line and station in exchange for excursion rates to draw people to Terral. In September 1895 the first train ran through this pioneer town. He made many trips to Washington D.C., Tishomingo, capital of the Chickasaw Nation, surrounding towns and cities to interest people Terral. He built and operated the first hotel here and the first real estate office. Mr. Terral left here in 1899 for western Indian Territory where he helped to found Lone Wolf in 1901 and Cold Spring in 1903. he moved to Colorado in 1911 and helped to build Springfield. He last move the old pioneer was to New Mexico in 1920 where he organized churches in Mills, Roy and Las Vegas. He died October 2, 1922 and was buried there in the Masonic Cemetery. Erected by Terral - Fleetwood Centennial Committee Oct. 1992

Located in Jefferson County, Oklahoma
Today in Oklahoma History
Hmmm, nothing listed for today. Well we'll just have to look ahead.
Oklahoma City bombing
On this day the Alfred P. Murrah Federal Building, downtown Oklahoma City was bombed. Timothy McVeigh and Terry Nichols were the perpetrators of the attack, which killed 168 people, including 19 children. Timothy McVeigh was later sentenced to death by lethal injection, while his partner, Terry Nichols, who was convicted of 161 counts of First Degree Murder received life in prison without the possibility of parole.
more...

Wednesday, April 19, 1995
Community
Exploring Oklahoma History is just for the fun of seeing what there is to see in the great state of Oklahoma, and to possibly learn a little something along the way.
Labor omnia vincit