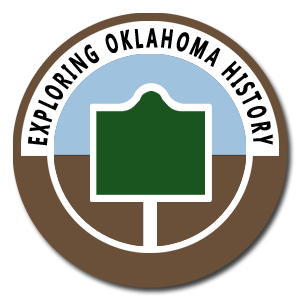 Historic Oklahoma Place of the Day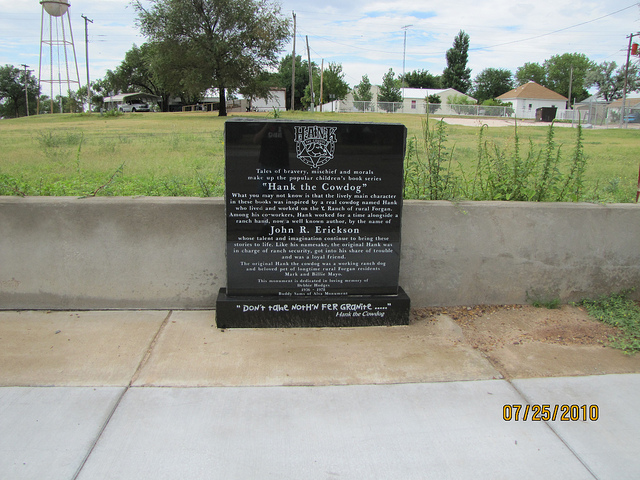 Hank the Cowdog Tales of bravery, mishchief and morals make up the popular children's book series "Hank the Cowdog" What you may not know is that the lively main character in these books was inspired by a real cowdog named Hank who lived and worked the Y_ Ranch of rural Forgan. Among his co-workers, Hank worked for a time alongside a ranch hand, now a well known author, by the name of John R. Erickson whose talent and imagination continued to bring these stories to life. Like his namesake, the original Hank was in charge of ranch security, got into his share of trouble and was a loyal friend. The original Hand the cowdog was a working ranch dog and beloved pet of lontime rural Forgan residents Mark and Billie Mayo. This monument is dedicated in loving memory of Debbie Hodges 1956 - 1978. Buddy Sams of Alva Monument "Don't take noth'n fer granite ....", Hank the Cowdog.

Located in Beaver County, Oklahoma
Today in Oklahoma History
Hmmm, nothing listed for today. Well we'll just have to look ahead.
Louisiana Purchase Treaty was signed
On this day the Louisiana Purchase Treaty was signed by Robert Livingston, James Monroe, and Barb Marbois at Paris. President Thomas Jefferson announced the treaty to the American people on July 4. Part of the Louisiana Purchase included lands that would become Oklahoma.
more...

Saturday, April 30, 1803
Community
Exploring Oklahoma History is just for the fun of seeing what there is to see in the great state of Oklahoma, and to possibly learn a little something along the way.
Labor omnia vincit