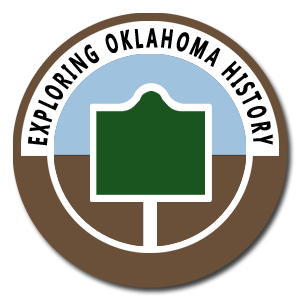 Historic Oklahoma Place of the Day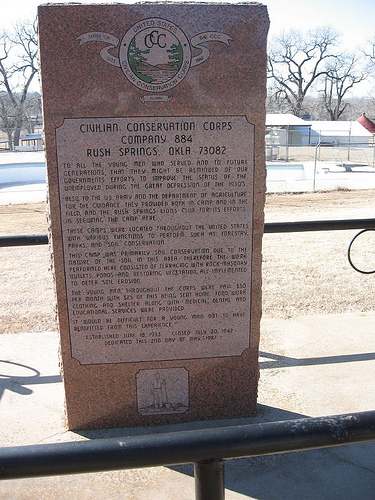 Civilian Conservation Corps Company 884 Rush Springs, Okla. 73082 To all the young men who served and to future generations that they might be reminded of our governments efforts to improve the status of the unemployed during the Great Depression of the 1930's Also to the U.S. Army and the Department of Agriculture for the guidance they provided both in camp and in the field, and the Rush Springs Lions Club for its efforts in securing the Camp here. These Camps were located throughout the United States with various functions to perform, such as: forestry, parks, and soil conservation. This Camp was primarily soil conservation due to the nature of the soil in this area. Therefore the work performed here consisted of the terracing with rock-masonry outlets, ponds and restoring vegetation, all implemented to deter soil erosion. The young men throughout the Corps were paid $30 per month with $25 of this being sent home. Food, work clothing and shelter along with medical, dental and education services were provided. It would difficult for a young man not to have benefited from this experience. Established June 18, 1933 Closed July 20, 1942 Dedicated this 2nd day of May, 1987 Logo: United States CCC Civilian conservation Corps Spirit of 1933-1944 The CCC Alumni

Located in Grady County, Oklahoma
Today in Oklahoma History
Hmmm, nothing listed for today. Well we'll just have to look ahead.
46th Star Added to U.S. Flag
Star #46 was
added
to United States flag for Oklahoma. This was the official U.S. flag for 4 years (July 4, 1908 - July 3, 1912).
more...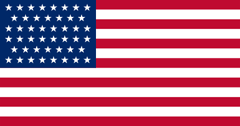 Thursday, February 27, 1908
Community
Exploring Oklahoma History is just for the fun of seeing what there is to see in the great state of Oklahoma, and to possibly learn a little something along the way.
Labor omnia vincit