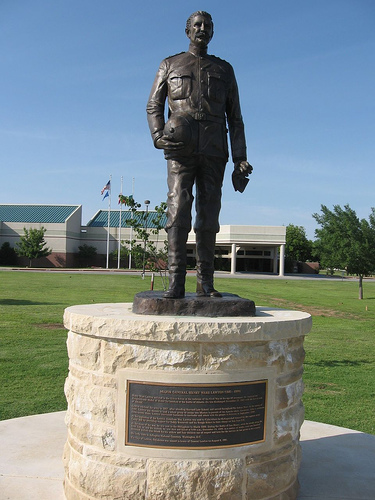 Major General Henry Ware Lawton
Major General Henry Ware Lawton (1843-1899)

Henry ware Lawton enlisted in the Union forces at the outbreak of the Civil War at the age of seventeen. He received the Congressional Medal of Honor for heroism at the Battle of Atlanta. He was Discharged November 25, 1865 with the brevet rank of colonel.

Lawton rejoined the army in 1867, after attending Harvard Law School, and served throughout the Indian Wars. In the spring of 1886, Lawton was chosen to lead a select group of troops into Mexico in pursuit of the Apache chief, Geronimo. After a strenuous, three-month chase, Lawton convinced Geronimo to surrender and return with his people to Arizona in September, 1886.

At the beginning of the Spanish American War, Lawton was sent to Cuba where he distinguished himself by the capture of El Caney and by providing support for Teddy Roosevelt and his Rough Riders in their charge on San Juan Hill.

At the close of the war, he was sent to the Philippines in March 1899. During the Battle of San Mateo, while he strode along the front line, as was his custom, he was shot and killed at 9:00 a.m., December 19, 1899. In a matter of weeks, over one hundred thousand dollars was raised for his widow and four children out of respect and love for the service he had given to his country.

His body rests in Arlington National Cemetery, Washington, D. C.

The City of Lawton, Oklahoma was named in honor of General Lawton on August 6, 1901.


Directions
Thomas Elmer Park / Great Plains Museum NW Farris Ave and 7th St. Lawton, OK
Notes
Dedicated by Lawton City Council on August 6, 2004
Mayor John P. Purcell, Jr.
Larry Mitchell, City Manager
City Council Members:
Randy Bass
Rex Givens
Glenn Devine
Amy Ewing-Holmstrom
Robert Shanklin
Jeffery Patton
Stanley Haywood
Randy Warren
Sculptor
Gary Dean Gardner, D.D.S
Great Plains Museum
Lawton,OK
Thomas Elmer Park