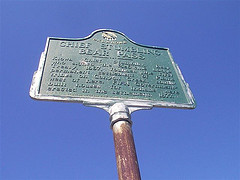 Chief Stumbling Bear Pass
Kiowa Chief Stumbling Bear who signed the Medicine Lodge Treaty, 1867 founded the first permanent settlement of Plains tribes, on Canyon Creek, southwest of here. First government built houses for Indians were erected in the settlement 1877.

Oklahoma Historical Society and State Highway Commission 1967
Directions
From Apache, OK, Caddo County, take OK 19 west 11 miles to OK 58 turn left on to OK 58 south 6.8 miles. sign is on the left.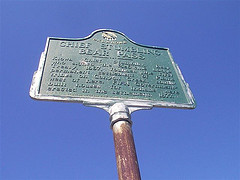 Notes
Chief Stumbling Bear
Satim-gear (Setimkia)
Kiowa
signer of Medicine Lodge Peace treaty 1867 1932 - 1903 May 14,1903
Grave marker is located: Chief Knoll, Fort Sill Cemetery, Fort Sill, OK.
Links
Famous Indian Chiefs (PAGE 16)

... In November 1864 at the Battle of Adobe Walls, Stumbling Bear fought U.S. forces led by Kit Carson. Soon after the signing of the Treaty of Medicine Lodge, however, both Stumbling Bear and Kicking Bird became ardent advocates of peaceful accommodation with the whites. In 1872, he journey to Washington D.C., with a delegation of Kiowa chiefs who sought peace. When the Comanches under Quanah Parker started the Red River War in 1874, Stumbling Bear advocated peace with whites and was a rival of the more militant Lone Wolf. As a result of his actions for peace, the federal government built a home for Stumbling Bear in 1878 on the Kiowa Reservation in Indian Territory. ...

Wikipedia: Medicin Lodge Treaty

The Medicine Lodge Treaty was a treaty that the United States of America signed with the Kiowa, Comanche, Plains Apache, Cheyenne, and Arapaho at Medicine Lodge, Kansas in 1867.

What is known as the Medicine Lodge Treaty actually consisted of three separate treaties. The first was signed October 21, 1867 by the Kiowa and Comanche tribes. The second, with the Kiowa-Apache, was signed the same day, while the Cheyenne and Arapaho signed the third on October 28.

The United States federal government during this time repeatedly reduced the size of Indian reservations. The Medicine Lodge Treaty assigned reservations with the aforementioned tribes, bringing them in close contact with the Sioux, Shoshones, Bannocks, and Navajos, setting the scene for more conflict for dwindling resources.

Encyclopedia of North American Indians: Treaty of Medicine Lodge Creek (1867)

Negotiated at a council held in 1867 near Fort Learned in southern Kansas, the Treaty of Medicine Lodge Creek attempted to end hostilities on the southern plains. Approximately five thousand Comanches, Kiowas, and Plains Apaches and six hundred white soldiers, officials, and onlookers gathered at the treaty grounds. The Indians were led by Ten Bears of the Comanches, Satanta of the Kiowas, and others, and the United States was represented by members of a Peace Commission set up by Congress the previous spring and charged with securing agreements with all the western tribes. The commission included Commissioner of Indian Affairs Nathaniel Taylor, Senator John Henderson of Missouri, General William S. Harney, a veteran of several Indian campaigns, and the Civil War hero William Tecumseh Sherman, who was not present at Medicine Lodge Creek. ...