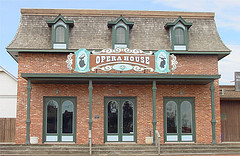 Old Town Museum Complex
The Old Town Museum complex is the steward for the present generation in preserving those moments of life experienced in settings like the interior of the Rock Bluff School, the Pioneer Chapel and early day pioneer doctor's office. Enjoy a dinner theatre production in our Opera House and take a stroll around Cowtown watering hole.
Directions
2717 W Third Elk City, Oklahoma. Eastbound take I-40 Exit #32 and travel 5 miles along Old Highway 66. Westbound take I-40 Exit #41 and travel 4.8 miles on Old Highway 66. The museum is located on the north side of the road.